Video: Old in Baby Sign Language
Signing: The old sign looks like you are pulling on a long beard, as if your were an old wizened man. You start the sign with your dominant hand at your chin in a fist shape, then move your hand downward toward your chest.
Figure: Old in Baby Sign Language
Usage: Signs like new are most clearly explained to baby by contrasting two opposite objects, such as an old ball and a new ball.
It usually takes exposure to old and new in a few different contexts for children to start to generalize the meaning of the word.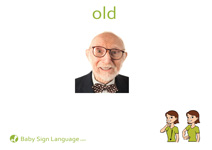 Flash Card: Click the link to view the Old Baby Sign Language Flash Card. The flash cards are printable and available in both U.S. Letter and A4 sizes.
Related Signs: New