Video: Hot in Baby Sign Language
Signing: Make the hot sign by taking your fingers and thumb into a claw shape. Now starting with your claw hand over your mouth, move the hand away from your mouth and rotate it so that you end the sign with your palm facing outward. Flatten out your leading hand.
Figure: Hot in Baby Sign Language
Usage: Hot is a useful intermediate sign to teach baby when they starting eating more independently. Babies will often not fully understand the laws of thermodynamics and put hot foods in their mouth. When your baby puts something a little too hot in their mouth or hand, make the sign and wince a little to help them learn the sign.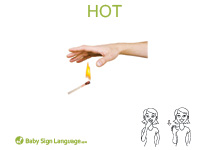 Flash Card: Click the link to view the Hot Baby Sign Language Flash Card. The flash cards are printable and available in both U.S. Letter and A4 sizes.
Related Signs: