Learn Baby Sign Language in just seven days! Get our Baby Sign Language Class (reg. $49.95) FREE for a limited time.
Once you sign up you will receive a 15-minute Baby Sign Language lesson directly in your inbox. We will send you new lessons every few days. These lessons will cover everything from the basics to more advanced topics such as combining signs. The lessons build on each other, so by the end of the week you will be ready to start teaching your own baby.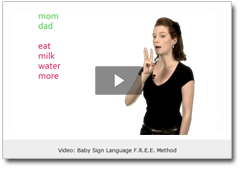 Day 1: Quickstart Guide
The first intensive session will cover the basics of teaching your baby to sign. You will also learn your first ten signs!
Discover why children in deaf families communicate a year earlier than children in hearing families, and how this led to the discovery of Baby Sign Language.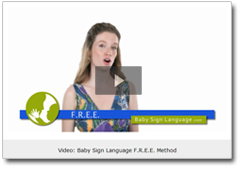 Day 2: The F.R.E.E. Method
Learn the award-winning F.R.E.E. method of baby sign language instruction. Incorporate Fun, Repetition, Encouragement, and Expansion into your signing to get your baby motivated to sign.
This class shows you how to integrate signing into your daily routines to ensure that signing becomes a natural part of your day.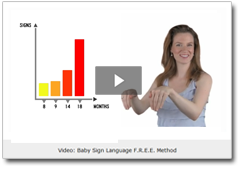 Day 3: Five Stages of Signing
Learn how your baby's signing skills develop as your baby progresses from recognition to imitation to understanding. Identify when to start initiation and combination signing.
We discuss how long it usually takes babies to begin signing, and the best ages to start teaching baby sign language.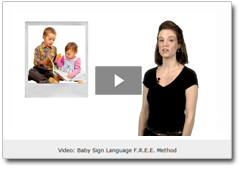 Day 4: Getting Everyone Involved
Get family, friends, and caregivers involved in baby sign language. Involving others in the teaching experience makes the learning process more enjoyable and helps baby learn even faster.
Show older siblings how to teach their baby brother or sister, giving them a role to play in their sibling's development.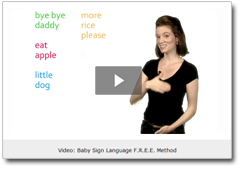 Day 5: Signing Combinations
Teach baby how to combine signs to create more complex phrases such as eat apple.
Unleash your baby's creativity and let her share her thoughts by combining the words in her vocabulary.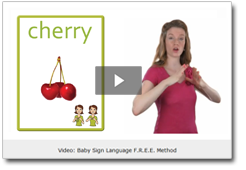 Day 6: Taming Tantrums
Ease toddler frustration using Baby Sign Language to help toddlers make choices and start to exercise control over their environment.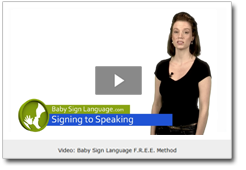 Day 7: Transitioning to Speaking
Transition from signing to verbalizing as your baby starts to talk. Transfer you child's signing vocabulary to words.
To get this course completely free, just enter your name and email address in the box below.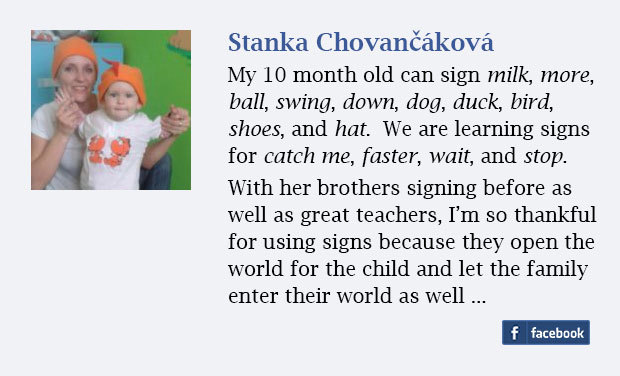 We have helped more than 1.5 million families in over 200 countries learn to sign. Check out some of our happy readers.
Video: Ted Signing at 15 months
Video: Elena Signing More at 8 months
Video: Amelie Signing at 11 Months (French)