We were quite tempted to gift you with a set of printable focused on fun to help you highlight our last summer holiday. Instead, we are going to share the signs for five really wonderful professions that will spark your child's imagination. Teaching our little ones about work will expand their horizon and will help you communicate more effectively during transitions  such as heading to the office after dropping baby at daycare or during stressful situations like visiting the doctor or the dentist.
To print your flash cards and watch the video click on the corresponding link below each picture.
Happy Labor Day!
The Baby Sign Language Family
Teacher
Teacher Flash Card/ Teacher Video
Doctor
Doctor Flash Card/ Doctor Video
Dentist
Dentist Flash Card/ Dentist Video
Firefighter
Firefighter Flash Card/ Firefighter Video
Police
Police Flash Card/ Police Video
Want to go beyond learning this set? Why not get the baby sign language collection with kits that compile the best available resources on the web to teach your baby how to sign. Our premium kit has 12 signing resources inclusive of the most popular Signing Time DVDs with songs and games that will keep your baby engaged and happy while learning how to communicate his wants and needs.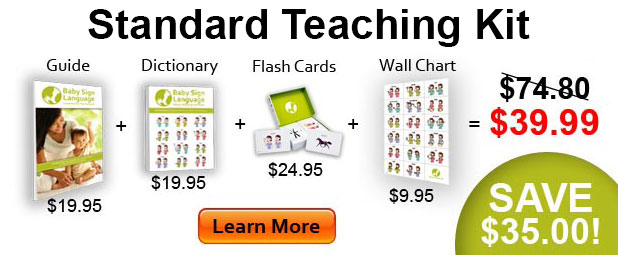 The Standard Baby Sign Language Kit, bundles together everything you need to get started with signing in one box, at a steep discount. The kit includes: (1) Baby Sign Language Guide Book; (2) Baby Sign Language Dictionary: (3) Baby Sign Language Flash Cards; and (4) Baby Sign Language Wall Chart.
Baby Sign Language Guide Book shows you how to teach your child how to sign. The book begins with a Quick Start Guide that will teach you your first signs and having you ready to sign in 30 minutes. As your baby progresses, you can delve into more advanced topics like combining signs to make phrases, using props, and transitioning to speech. (Regularly $19.95)
Baby Sign Language Dictionary contains over 600 signs including the most common words, the alphabet and numbers. The dictionary helps you expand your child's vocabulary, and has the breadth of coverage that lets you follow any child's natural interests. Each sign is illustrated with two or more diagrams, showing you the starting position, the ending position, and intermediate motion. This makes learning new signs easy.  (Regularly $19.95)
Baby Sign Language Flash Cards include 52 sturdy board (4×6 inches) flash cards, covering a variety of basic signs. The flash cards allow you to teach words, such as animal names, that Baby is not exposed to in everyday life. The face of the flash cards shows the word and image for the child. The back of the flash cards show how the sign is performed, a handy reminder for the adult.  (Regularly $24.95)
Baby Sign Language Wall Chart includes 22 basic signs, and makes a handy reminder for caregivers. The Baby Sign Language Wall Chart covers basic signs, like eat, drink, and sleep. Hang the poster in Baby's Nursery to help babysitters, or other occasional caregivers learn and decode the most commonly used baby signs.  (Regularly $9.95)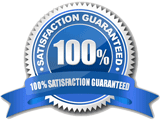 100% Signing Guarantee
Your baby signs to your complete satisfaction, or you get a full refund.
No questions. No time limits. No regrets.
Baby Sign Language Guide Book
Learn the best techniques for effectively teaching baby sign language. Including:
•  Quick Start Guide – learn the first 10 signs and the basic principles required to start teaching your baby to sign (Chapter 1).
•  Advanced Teaching Methods – use teaching aids like books, flash cards, and toys to keep lessons interesting and challenging (Chapter 5).
•  Phrases – teach your baby to combine signs and communicate more complex thoughts (Chapter 6).
•  Taming the Terrible Twos – reduce frustration and tantrums by enabling your toddler to communicate (Chapter 7).
•  Transitioning to Speech – use sign language to expedite and improve speech development (Chapter 8).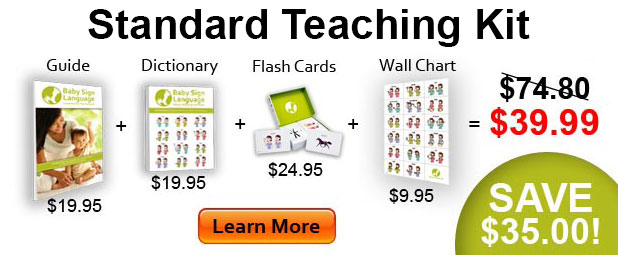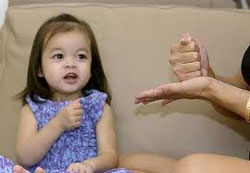 Sarah learned her first 10 signs at six month and it made our lives much easier. Instead of screaming, she could tell us when she was hungry, thirsty, or tired. She learned another 50 signs by nine months and that was a blast. Now she is talking much earlier than the other children in her preschool and we think it is because of her signing.
We can't imagine missing out on all the little things she shared with baby sign language. Thank You!