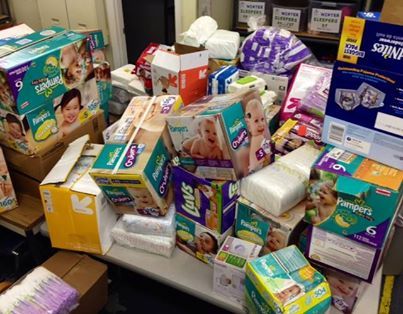 If you are like most of us you are deeply concerned for those affected by hurricane Harvey. In our case, we are particularly touched by those who had to flee and are currently parenting babies and toddlers. Yesterday we had the opportunity to volunteer at a temporary shelter and we identified specific needs of those dealing with the added complexities of having little ones without a place to call home. As you prepare to donate or assist please keep this tips in mind.
Think Practically
A natural disaster is not an opportunity for you to clean the garage. Large toys, out of season clothes and high tech gadgets have no place in the donation bin. Practice relevancy and meet immediate needs. Pre-wash all baby clothing and pack it in clear bags marked with size and a note indicating that the item has been washed.
Give What You Would Like to Receive
I could not help it notice the donation stack had piles and piles of lower quality disposable diapers. A blowout is not fun at any time but it is particularly difficult if you have limited access to water. When selecting donations shop as if you were shopping for your own baby.
Consider Special Needs
Think about sensitivities and allergies. Pick fragrance-free baby products and consider donating formula that addresses specific food sensitivities.
Give Your Time
Many babies have been relocated to hospitals hours away from their families. If you are a NICU volunteer consider increasing your hours. This little ones need to be held
Strollers & Pack 'n Plays
In many shelters families are given only cots. If you have small strollers that recline and compact pack 'n plays consider donating.
Have Bigger Items?  Play the Wait Game
In a few months those whose houses were damaged and had no flood insurance will need all manner of goods. Hold on to your nice stuff. You will soon have the opportunity to make a difference and help a family or two trying to put their lives back together.
Baby Wearing is Life-Changing During Stressful Situations
If you have a high quality baby wearing wrap to spare consider sharing. When you don't have a private place to let your baby rest baby wearing is a second best option.
Small but Important, Loveys & Pacifiers
Many families evacuated last minute leaving behind their most basic possessions. Take time to pick and donate small loveys and pacifiers to bring little ones a sense of comfort and familiarity.
Don't Forget Breastfeeding Mamas
Many evacuees don't have access to a car. If you are donating to a shelter consider including breastfeeding pads, high quality breastfeeding new bras and gently used breastfeeding-friendly tops.
Donate Money to Qualified Charities
This is perhaps the most important thing you can do. Select charities and organizations known to be good stewards and donate generously.