We love that all of Jute Baby's products are made with high-quality, organic fabrics. Jute Baby sells adorable hats, headbands, blankets, and burp cloths, which you can get in a wide variety of fabrics and patterns. We love the woodland animals and modern stripe patterns. If you'd like, you can even get Jute Baby products monogrammed or personalized. Jute Baby also sells cute rattles and teethers with tags, and any baby is sure to love them. You can even bring Jute Baby into your home with hand painted pillows. We're so excited to be able to give away a swaddle blanket and matching hat in one of our favorite fabrics, chevron.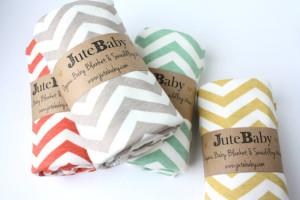 This organic baby blanket and matching top-knot hat set is the MUST-HAVE item for bringing baby home! This super soft fabric will be cuddly for baby, while still being light-weight and breathable. The stretchy fabric is perfect for swaddling, carrying around, and snuggling with year round. It folds up into a nice small package – perfect for keeping in a diaper bag for on-the-go use.
You definitely need more than one of these blankets! They work awesome for EVERYTHING! Nursing, burping, bath time, swaddling, changing pad, tummy time, picnic blanket, dolly blanket, super cool forts, beach blankets… the list is seriously endless.
Not only is it the ideal blanket for bringing baby home, but it will grow with your child. It is cool and stylish and your little one will still love it as they grow into toddlerhood.
– Size is 36″ x 36″
– Top-Knot Hat Size: 0-3 Months or 3-12 Months
Is your baby a Jute Baby? Consider teaching them some of the following signs!
Want to enter other fun giveaways?