WubbaNub is one of those baby inventions you see and say, "That's genius! Why didn't I think of it?" A combination stuffed animal and pacifier, WubbaNub solves several parenting problems in one. It greatly reduces the number of times your baby will drop and lose their pacifier, and it ensures your baby's binky and lovey are always close at hand. The silicone, BPA-free pacifier comes attached to your choice of animal, with adorable choices like a baby giraffe, little lamb, monkey, elephant, and more. We love WubbaNub's ingenuity and downright cuteness, and we know you'll love it, too!
Our awesome friends at WubbaNub gave us this prize to share with you:
WubbaNub Red Dog and WubbaNub Yellow Duck  Total Value $29.95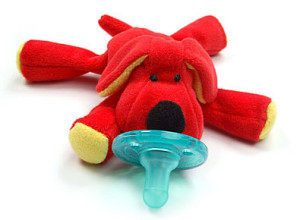 WubbaNub© Pacifiers are super cute for sure … but it is the unseen aspects that Moms love the most! They are easy to clean, the patented design helps the pacifier stay near the baby's mouth … and … best of all the plush attachment prevents the pacifier from being lost, dropped or forgotten! www.wubbanub.com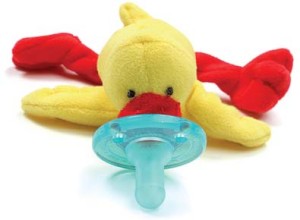 If your baby has a WubbaNub, consider teaching them some of the following baby signs!
Thank you Wubbanub for sharing goodies with our baby sign language friends!
If you have not entered our prior Baby Sign Language May Giveaway Extravaganza, here are the links:
AngelCare Baby Monitor Giveaway
3Marthas Playful Plane Gift Basket
Super easy and fun ways to enter this cute giveaway!
a Rafflecopter giveaway