We love products designed by moms, and that's one reason we love Uh Oh Bands. These durable, silicone wristbands were designed by a mom with a sense of intuition and style. They read "Uh Oh, I'm Lost" along with the international symbol for first aid and a place to write your phone number. Allergy bands read "Uh Oh, Allergy" along with a space to write your child's life-threatening allergies. Simple, comfortable, and waterproof, Uh Oh Bands provide peace of mind in public places.They're especially helpful for children with disabilities, and they come in adult sizes, too. You can even consider an Uh Oh Bands Fundraiser for your school, team, or organization.
We found out about these bands while we tried to help a mom of a little boy with Apraxia & peanut allergies. She needed a practical and affordable solution to help her toddler communicate a complex situation. When it came to his condition and considering his age baby sign language was just not enough.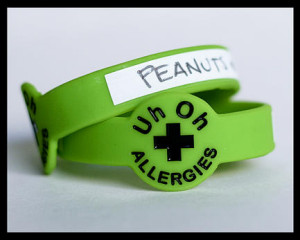 Prizes: We are going to select 10 winners. You get to pick your color! Each band is valued at $7
OK, so maybe not magic powers, but they do give kids a way to communicate without having to say a word and that's pretty cool!
Does your child wear an Uh Oh Band? Consider teaching them some of the following baby signs! Hurt  Mommy  Afraid  Daddy
If you want to enter another awesome giveaway click here.