When it comes to chic and contemporary baby clothes and accessories, Trumpette is leading the pack. High-quality fashion socks and tights are Trumpette's signature accessories. We absolutely love their inexpensive and comfortable Moccasins, which are perfect for new walkers and go up to size 24 months. Trumpette also has a wide selection of apparel in trendy designs, including the beloved Peanuts characters and leg warmers (Is there anything more awesome than a baby wearing Snoopy accesories?). Sequin and faux fur diaper bags keep moms looking good, too. A cool feature on Trumpette's website is the opportunity to design your own personalized wrapping paper, which is perfect for baby showers and other special occasions.
Our sweet friends at www.trumpette.com want you to win a little something for you and a little something for baby. Their gift for our Baby Sign Language May Extravaganza is plain magnificent!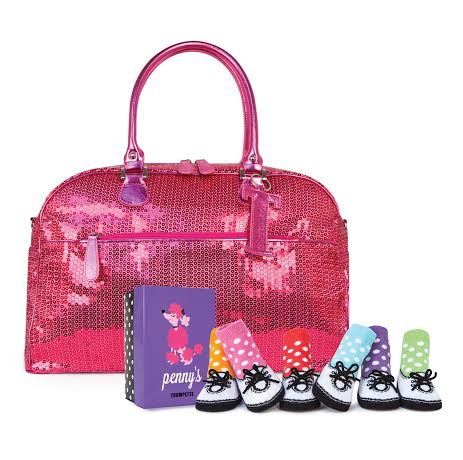 Sequin Schleppbag and 6 pairs of Penny's (the most adorable socks ever!) worth $175
The side pocket of this awesome bag is perfect to store a few baby sign language flashcards for on-the-road activities!
We really hope someone spoiled you for Mother's Day or at least we hope you had time to put together a little craft. If life got too busy for goodies or crafts let us be the ones that send something awesome in the mail.
All of our May Baby Sign Language Giveaways will remain open for participation until the end of the month. Here are the links to our prior giveaways. Keep in mind you can earn extra daily entries by engaging socially with each giveaway.
Uh Oh Bands Giveaway
AngelCare Baby Monitor Giveaway