The Very Hungry Caterpillar is a well loved book that should be part of every child's personal library. For us this book presented a wonderful opportunity to transition baby from two-dimensional concepts to real objects. With the help of The Very Hungry Caterpillar by Eric Carle we learned many food items particularly fruits.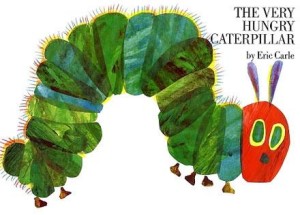 In addition to learning to sign and say fruits and food items The Very Hungry Caterpillar is a great resource to teach baby the basics of counting and finite concepts. If you have older children who are already familiar with The Very Hungry Caterpillar learning Herman The Worm, a charming and contagious camp song suitable for little ones four and up.
As you read The Very Hungry Caterpillar with your little one you may want to begin to introduce the following baby signs:
Caterpillar, moon, leaf, sun, egg, apple, pears, strawberries, oranges,cake, ice cream, watermelon.
If this is your first time reading our Top Fifty Read-Along Books for Babies & Toddlers series please go to the following posts to check out prior editions:

If you don't have access to all the fruits and food items in your kitchen consider purchasing plastic model food items such as this set of pretend food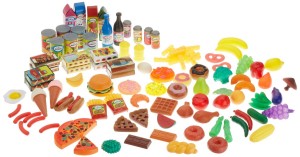 Until next time!!
The Baby Sign Language Team