Let the fun begin!!! Little Giraffe has agreed to gift our baby sign language family & friends with a really awesome blanket and blanky!
Little Giraffe is one of 55 brands we love and use in our own homes. For us, the sensory experience given to our little ones by  selecting extra soft fabrics and toys adds a whole new dimension to the developmental care of our little ones. Last year, when my friend Sasha was expecting her baby girl I purchased a giraffe plush toy from Little Giraffe. Nelly's third sign just after more and milk was giraffe!!
The most important quality of a baby blanket is how it feels on baby's skin, and that's why we love Little Giraffe's blankets, blankies, and swaddlers. They're made from the softest, plushest of materials, and they feel just heavenly, like laying on a cloud. High-quality chenille, cashmere, velvet and muslin are some of the options. Little Giraffe also makes luxury stuffed animals, bips, washcloths, towels, pillows, and more – all the perfect feel for baby's delicate skin. We love the gift sets for baby showers. Even celebrities like Angelina Jolie, Gwen Stefani, and Jessica Alba love Little Giraffe's plush products. (In fact, I found out about this awesome brand via a Tweet from one of these famous moms).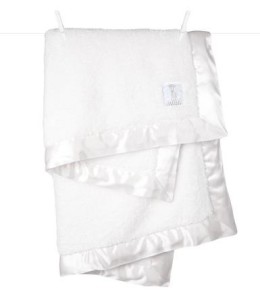 You Can Win "My First Blanket" & My First Blanky  in pink or blue (winner can choose colors) worth $111.50.  
One winner will be selected using Rafflecopter. The giveaway is open to Continental United States friends only. The winner will be selected on June 7 2014
If you already have some of Little Giraffe's products at home you may want to work on learning the following baby signs:
Our sweet friends at Little Giraffe would love to extend a discount to all new customers, just head to their website and enter your address to their friend list.