Nursing covers make it easy to breastfeed in public privately, and we absolutely love Hold Me Close Nursing Scarves. Instead of storing your nursing cover in a diaper bag and fishing it out when it's time to use it, you wear your nursing scarf as a stylish accessory and simply unwrap it when it's time to nurse. We love how these nursing covers have dual functionality – they're modern, attractive, and provide excellent cover for you and your baby. You can even wear it as a scarf long after your little one outgrows breastfeeding. This is an excellent nursing accessory, and we love the idea!
The creator runs a really awesome Etsy shop and we wanted you introduce you to some off-the-beaten path products we have tried and loved.
We have 4 to give away in choice of color!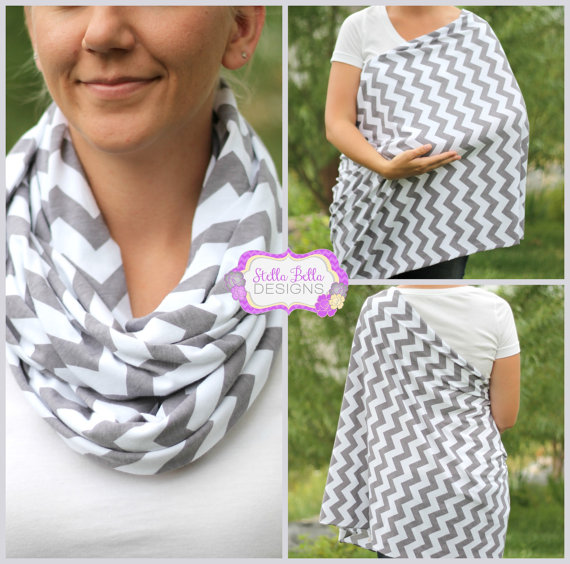 This is what Sondra Hinnenkamp had to tell us about her awesome product:

Tired of using those uncomfortable, hard to use nursing covers? Well here is your stylish solution, the HoldMeClose Nursing Scarf™! This stylish and multi-functional infinity scarf quickly and easily converts into a convenient nursing cover perfect for mothers on the go! The HoldMeClose Nursing Scarf™ easily unwraps to cover not only you and baby while nursing, but also your back and sides too! It provides more coverage than the average nursing cover, while still allowing you to interact with your baby. Wear while you're pregnant, while you're nursing, and long after! One less thing in your diaper bag – one more stylish accessory in your wardrobe!
Super easy to use! Need to nurse in public? Just unwrap your HoldMeClose Nursing Scarf™ and pull it over your shoulder, now your ready to feed your little one. All done, just re-wrap it around your neck and be on your way!
Our Nursing Scarves are made from high-quality jersey knit that drapes gently on mommy as a scarf and feels incredibly soft and light against baby while nursing. The edges are RAW as this fabric will gently curl under when washed giving a nice soft edge for baby and mom. This pattern is a SINGLE SIDED scarf, directions are included on how to fold so that you do not even see the backside when wearing as a nursing scarf! They are so stylish you can wear it long after (or before!) little one arrives.
We are thrilled to feature her and hope you had a chance to enter ALL the giveaways from our May Extravaganza. Here are the links:
AngelCare Baby Monitor Giveaway
3Marthas Playful Plane Gift Basket
Dohmie by Marpac Sleep Conditioner Kit 
Little Hip Squeaks $100 Gift Card