When we host giveaways we put a great deal of love in selecting our partner merchants. In fact, the Baby Sign Language Family only picks products we have tried or we dream about having. The work of Tina Steinberg is the stuff of dreams. Elegant, simple & beautiful. Heirloom pieces that make you smile!
We all cherish the hand & feet prints of our little ones. When we sign and see their little hands moving we wish we could stop time! Tina's Love Touch Collection does precisely that.
Sterling silver charms & pendants with your loved one's fingerprint. Each one comes with a short inscription on back. The designs are, simple, organic and beautiful. Antiqued to look timeless.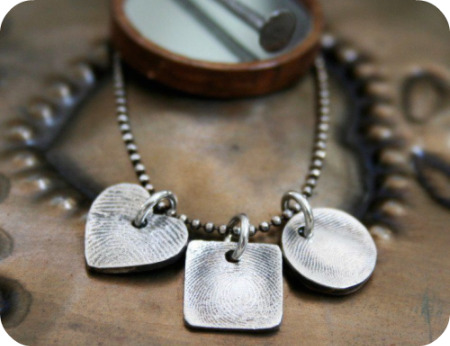 Enter to Win One Custom Piece From Tina Steinberg Love Touch Collection Valued Over $100
You can see Tina's latest work and follow her creative path on her Facebook Page
If you have not yet entered our other May Baby Sign Language giveaways you still have a chance until June 7, Here are the links:
AngelCare Baby Monitor Giveaway
3Marthas Playful Plane Gift Basket
Dohmie by Marpac Sleep Conditioner Kit 
Little Hip Squeaks $100 Gift Card
Hold Me Close Convertible Nursing Scarves