Our super cool friend Elsie from Modern Twist picked the most fantastic and useful gifts to feature on our giveaway. Modern-Twist has a delightful selection of eco-modern goods and we particularly enjoy the items they feature for baby. For this giveaway Elsie gave us four awesome gifts: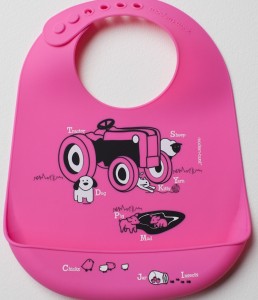 1 Farm Buddies Bib in pink (MSRP $20.00)

1 Farm Buddies Bib in cherry (MSRP $20.00)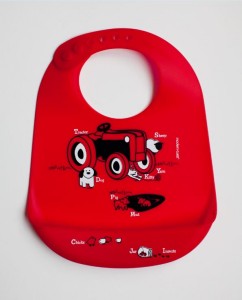 "Silky to the touch, comfy against baby's sensitive skin, and super easy to clean. Busy parents can roll up the flexible, soft Bib for dining on-the-go. Save clothes from spills and stains with the deep, soil-resistant catch-all pockets. Bib comes in vibrant colors and designs by independent designers. Our Bucket-bib like all other Modern-twist products, are hand silk-screened on FDA approved food-grade silicone. Free of BPA, lead,latex, phthalates and other harsh chemicals. Safe for baby and the planet."
2 Farm Buddies Mark-mats (MSRP $25.00 each)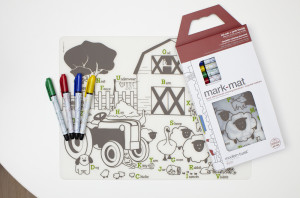 "Collaborating with unique talents from the independent art scene, Modern-twist brings art to even the littlest table. Made from silky food-grade, hand silk-screened silicone, the mats won't crease or rip. The mats are ideal for travel and mealtime activities. The kid's placemats feature creative, playful designs that will amuse and inspire little tikes. For parents who live a design-inspired lifestyle, the simple, clean design provides optimal functionality with a minimalist aesthetic. Nurturing the inner artist in every child, the mats are doodle-friendly with the use of washable or dry erase markers—save paper/save trees, just clean off with a damp cloth or rinse. Color again and again."
For most of us the table is a place of learning where our little ones begin signing fruits and vegetables and other relevant food items.
We are really enjoying sharing with you products we love and trust. Here is the most updated list of our Baby Sign Language May Extravaganza Giveaway:
AngelCare Baby Monitor Giveaway
3Marthas Playful Plane Gift Basket
Dohmie by Marpac Sleep Conditioner Kit 
Little Hip Squeaks $100 Gift Card