KidCo is one of the premier names when it comes to baby-proofing your home. For more than 20 years, KidCo has been producing innovative safety gates for all areas of the home. Since then, they've expanded to many different types of home safety products and bed rails. They also offer innovative feeding products like handheld and electric food mills. Some of their coolest products are the portable, pop-up PeaPod travel beds and the portable Go-Pod activity seat. Most KidCo products come with a free one-year warranty for your extra protection and satisfaction. You can find KidCo products in many different retailers and online stores.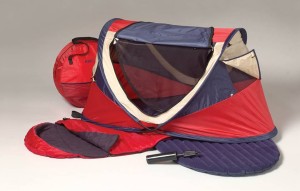 KidCo was extra awesome and decided to share with all of us a:
Pea Pod Plus worth $119.99
What is a Pea Pod Plus anyway?
The PeaPod Plus is a super comfortable and safe enclosure for your little one to take a nap at home or on the road. Part tent, part kindermat, part crib the PeaPod Plus takes the best features of the most popular sleeping accommodations for little ones and combines them in a single portable concept.
The PeaPod Plus accommodates children from 1-5 years of age. It comes fully assembled with a Micro-Lite sleeping pad already attached to the floor, and a storage/carry bag.
If you have a Pea Pod at home or you win the one KidCo has so graciously offered for our giveaway you should make it a point to learn the following baby signs: Gate, Stairs,Stop, Downstairs.
If you have not yet entered prior activities for our May Baby Sign Language Giveaway Extravaganza here is an easy way to access all the links:
AngelCare Baby Monitor Giveaway
3Marthas Playful Plane Gift Basket
Dohmie by Marpac Sleep Conditioner Kit 
And here are ways you can engage with Kidco and win entries to this awesome giveaway: