When my friend Tasha wanted to wean her little boy from a co-sleeping arrangement she did a ton of research on ways to make the transition less painful for baby Adrian and herself. After a great deal of research and asking friends around she decided on the Angelcare Sound & Movement Monitor. I have a wonderful story to tell you about baby monitors and sign language but I will keep that for another day. For now let me tell you a little bit about this great prize: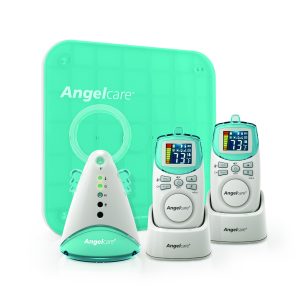 The Sound and Movement Monitor Model AC401 Has The Following Features:
 Sound and Movement Monitor
 

Angelcare

under-the-mattress movement Sensor Pad
 Color LCD screen
 Rechargeable and portable Parent Unit monitor (up to 820-foot open-field range)
 Nursery-room temperature display on the Parent Unit
 Crystal-clear sound transmission
 Sound-indicator lights
 Soft and soothing night light on the Nursery Unit
 Deluxe and Deluxe Plus models feature optional second parent unit and optional second sensor pad and (not ideal for twins).
We have one monitor for this sweet giveaway and it is valued at $110
AngelCare products are available at most retailers in the United States. This giveaway is only open to United States participants.
If you have not yet entered our other May Extravaganza Giveaways feel free to use the links below: