Yesterday we introduced you to this beautiful product. A gem indeed! The ASL Blocks will without doubt become a family heirloom.
We absolutely love wood toys, and Little Sapling Toys makes some of the most creative, high-quality ones we've come across. All Little Sapling Toys are made using FSC-certified hardwoods, so they're totally safe for your children. Their wood teethers are excellent for babies, and they come in lots of cool designs, like state shapes! Little Sapling Toys also makes a variety of rattles, blocks, memory games, and other toys like pretend cell phones, cameras, and cars. Their wood growth charts and stools are great additions for any child's room. Most of their products can be personalized. One of our favorite things about Little Sapling Toys is their dedication to the environment – for every product sold, they plant one tree!
Our awesome and generous friends at www.littlesaplingtoys.com gave us not one but TWO ASL Blocks to Giveaway, and for extra credit they sent An ASL I Love You Teether.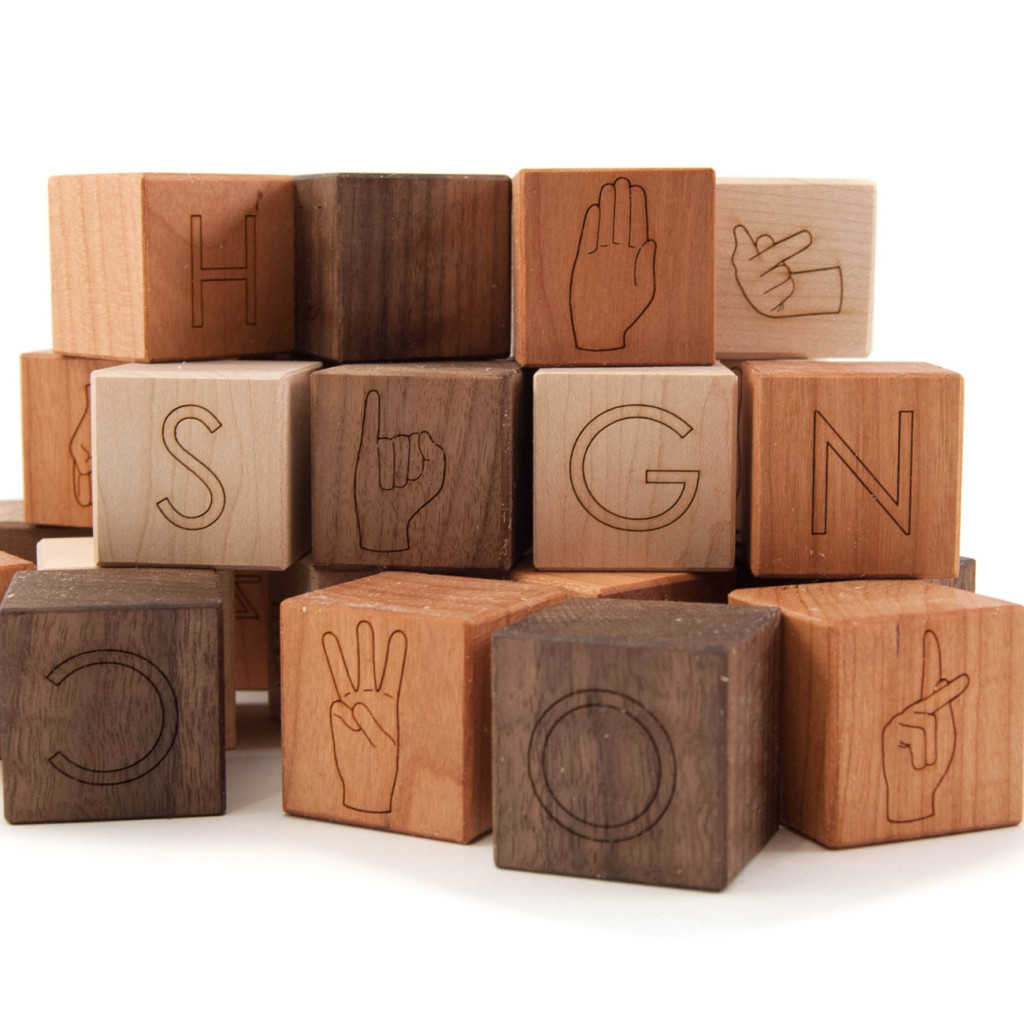 ASL blocks – Little Sapling Toys American Sign Language alphabet blocks are a personal and convenient way to connect with children while teaching. These sturdy organic building blocks have an upper case and ASL hand of the same letter engraved on each block. The blocks are made with the highest quality Walnut, Maple and Cherry wood lightly finished in local beeswax and organic jojoba oil. The letters and signs are etched into the wood, so they won't rub off and they are completely safe for kids to mouth. There are 26, 1.5″ square blocks.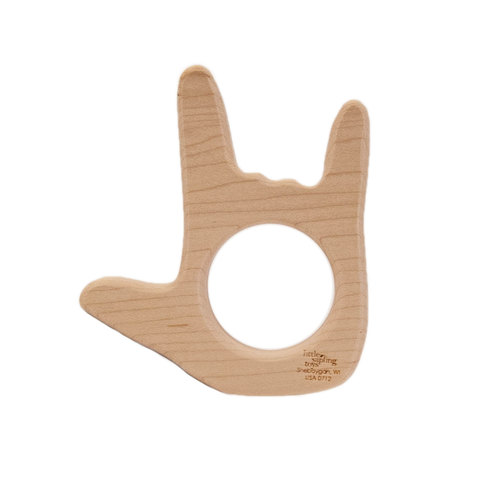 ASL I love You Teether – Little Sapling Toys wooden teethers are the ideal first toy for babies to grasp and chew. A single wood shape or set make an adorable personal and unique gift for new parents and their new little ones. We've handcrafted these teethers with Hard Rock Maple, a non-splintering wood. It is naturally anti-bacterial, non-allergenic, and non-toxic. All of our Little Teething Toys are sanded satin smooth with no exterior finish. Each ASL I Love You teether measures 3.5″ x 4″. Safe for all ages, developmentally suited for ages 3 months and up.
Enter, win share and enjoy!
a Rafflecopter giveaway
  How about entering another awesome baby sign language giveaway? Here is the most updated list: $100 Gift Card for Baby Signing Time Uh Oh Bands Giveaway Little Giraffe Giveaway Guava Lotus Crib Giveaway AngelCare Baby Monitor Giveaway Trumpette Sequin Bag 3Marthas Playful Plane Gift Basket Wubbanub Duck & Dog Pacifiers Kazam Training Bike Blooming Bath Trend Lab Gift Set Dohmie by Marpac Sleep Conditioner Kit  Pea Pod Plus by KidCo Little Hip Squeaks $100 Gift Card Modern Twist Bibs & Mats Episencial $125 Gift Basket Bendi Yoga Mat Hold Me Close Convertible Nursing Scarves Hape Toys Wooden Animal Farm Bebe Au Lait Set Tina Steinberg Custom Silver Fingerprint Piece Boden $150 Gift Certificate