Not too long ago our friend Lauren asked us to suggest a few toys suitable for babies whose learning style is more three-dimensional and tactile and have in a way outgrown flashcards. In our book we dedicate a chapter to teaching baby sign language using visuals and props to help baby interact with objects that she can associate to concepts.
Like most parents our main objective with baby's first signs was to find effective ways to meet her needs. Her initial needs were of course associated to basics such as food and diaper changes. During this stage we had no props and we simply used the real thing. It made sense to use the real things because they were readily available and engaged all her senses. A fruit is something that she could touch, smell,taste and see. As her needs and wants expanded we needed a little extra and we found that representative toys had an immediate result and kept her highly engaged.  We wanted to share with you three toy sets we found specially useful.
Jumbo Jungle Animals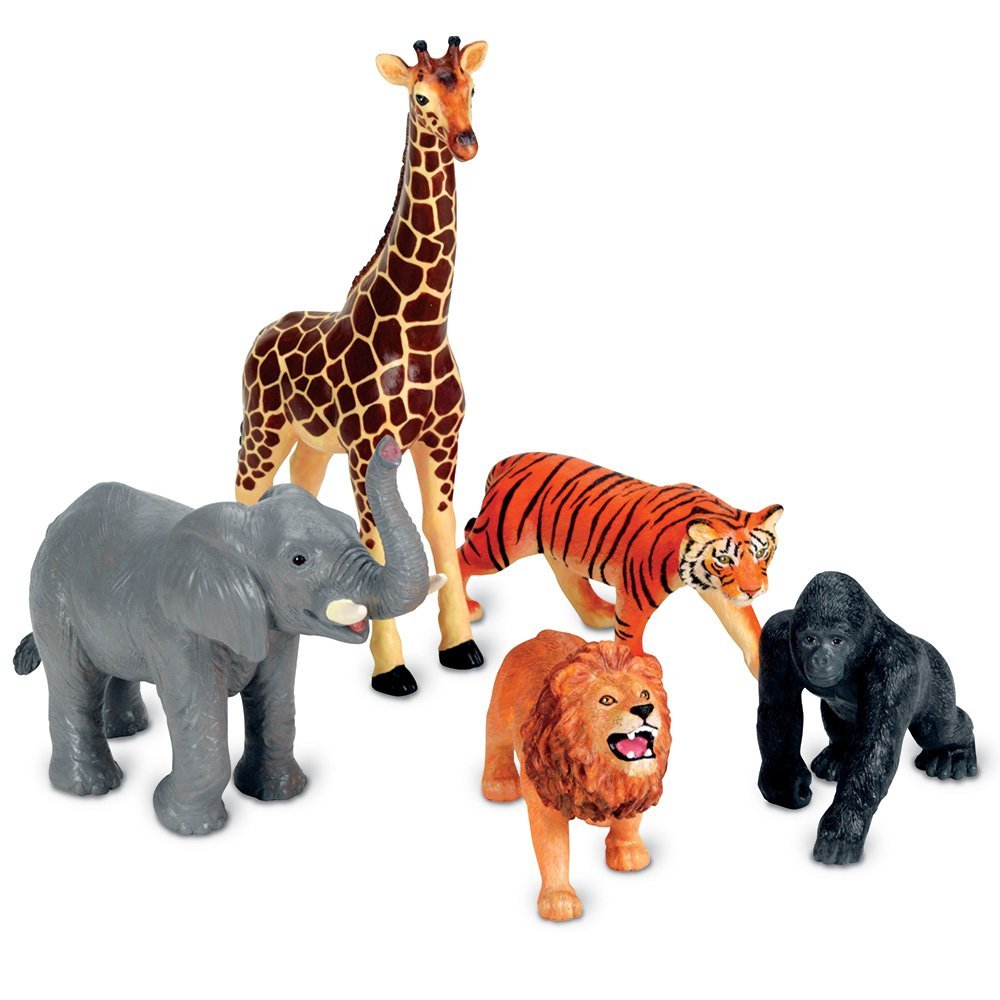 At home we don't have a TV and most of our visual feedback comes from the Ipad. Our little girl has demonstrated a strong interest for animals. This set is made of plastic and washable. Each animal is big enough to not present a shocking hazard and small enough for baby to hold it with ease. Award Winner – Oppenheim Toy Portfolio Gold Seal Award(2006).
New Sprouts Fresh Picked Fruit & Veggie Tote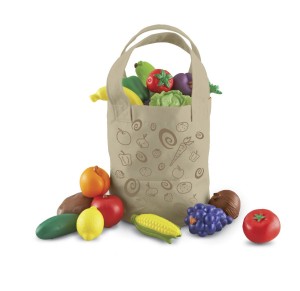 While we love to use real food in teaching baby how to sign fruits and veggies we often find it challenging to find ways to expose her to the appearance of a fruit or veggie before processing. For example, our girl may get a few pieces of chopped lettuce in her salad but have no familiarity with the appearance of a whole lettuce head. This kit was particularly useful as we worked on expanding her vocabulary between 22 months and 3 years. It was fantastic for her signing skills as well as her verbal development. Currently it is part of her kitchen set and it has provided endless hours of enjoyment.
Melissa & Doug Transportation Chunky Wooden Puzzle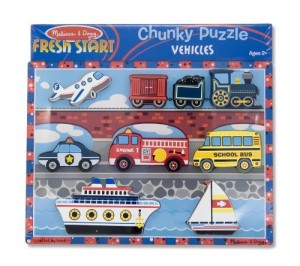 This recommendation comes from my friend Sarah who has a very active and curious boy. Sarah's  boy can sign over 100 baby sign language signs from airplane to zebra. Because Sarah and Lucas live away from bodies of water or train routes the majority of his exposure to these means of transportation is via books or TV. Sarah tells me the puzzle along with flashcards made it a breeze to learn all their transportation signs.
If you have spotted awesome toys that have worked for you please feel free to share.
Lauren, thanks for asking this very important question and we hope these toys help you and your baby stay busy and learn quickly.
BSL is a participant in the Amazon Services LLC Associates Program, an affiliate advertising program designed to provide a means for sites to earn advertising fees by advertising and linking to www.amazon.com.