Because you asked for a more integrated baby sign language program a few months ago we introduced the Baby Sign Language Premium Kit. The Premium Kit provided all the materials from the Deluxe Kit plus the 4 DVDs and 4DVDs from the famous Signing Time Collection. We have been amazed by your response and we are extra proud that you have rated the kit 4.6 out of 5!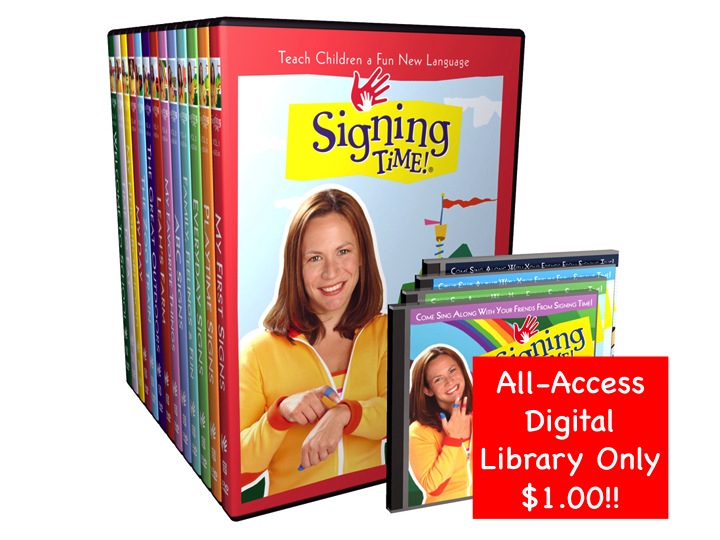 BabySignLanguage.com coupon code is: ALL4ONE
We wanted to do something awesome and exclusive for our fans, particularly those that already had the deluxe baby sign language  kit and wanted to sample Rachel Coleman's wonderful collection. For just a limited time Signing Time is giving all of Baby Sign Language fans unlimited access to their whole digital library. Here are the details:
You are invited to purchase the all-access digital pass to to Signing Time for just $1.00 for the first month. This pass will give you unlimited online and offline access to over 100 hours of engaging videos and catchy songs specially produced with your baby and toddler in mind. You will enjoy hundreds of songs and famous DVDs inclusive of Potty Time and the Baby Signing Time Collection.
If you decide to keep the subscription it is just $9.99 per month. We thrilled to share this awesome opportunity with you and super thankful to Signing Time team for allowing us to give you such a special deal!
Again, here is the link and coupon code:
BabySignLanguage.com coupon code is: ALL4ONE